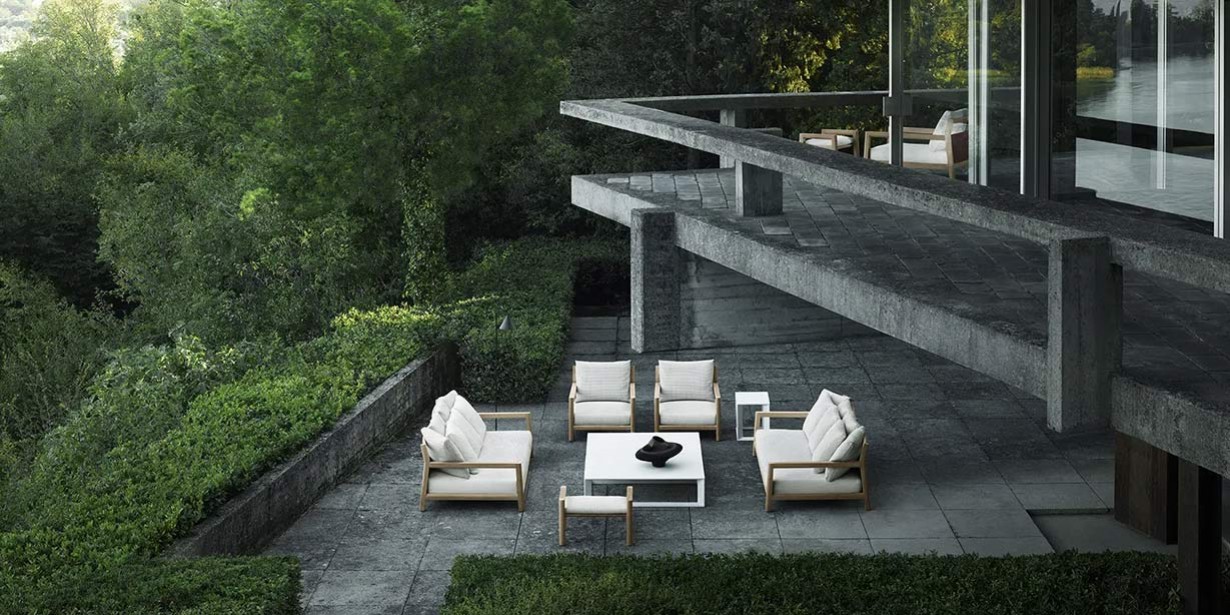 Get inspired by the new outdoor collection designed by Vincent Van Duysen for B&B Italia, Noss by Varaschin and the Giro collection by Kettal.
The last years, also thanks to the Covid-19 pandemic which forced people to have a long lockdown in their homes, outdoor furniture has had a strong consolidation.
If previously outdoor furniture was more linked to technical performance and less to aesthetics, today design has actually entered the garden, combining stylistic and technological research into innovative and sustainable materials and coatings. No boundaries between indoor and outdoor: the open-air living room is able to dialogue in perfect harmony with the internal one, creating continuity and visual coherence between the two environments.
In this sense, Minotti dictates the law by conceiving an outdoor collection with a sober and formal style, full of exquisite and tailored details, just as if the outdoor area were another room in the house.
In 2022 there are several new collections launched by the brands for outdoor furniture, perfect to be placed in residential and ho.re.ca area (hotels, resorts, b&b, cafes and restaurants) such as urban terraces, patios, gardens, poolside, rooftops, lounge areas.
B&B Italia - Pablo Outdoor & Borea Sunbeds
B&B Italia continues its path towards the outdoors and in 2022 collaborates for the first time for outdoor furniture with Vincent Van Duysen. Pablo Outdoor is the upholstered collection that includes an armchair in two depths, the sofa, the footrest and coffee tables. The fil rouge of the line is teak, a material of choice for the outdoors.
From an aesthetic point of view, Pablo is defined by a geometric proportion of straight and curved lines, which in addition to fulfilling the design function, also simplify the care of the wood and the maintenance of the covered elements thanks to the continuous structure and the fabric rear panels of the seats that are anchored to easily removable rods.
Pablo Outdoor seats guarantee pleasantness to the touch: thanks to the use of teak. Comfort is given by the generous padding of the seat and back. Pablo coffee tables are real concrete solids, a hymn to geometry, available in two sizes and two colors.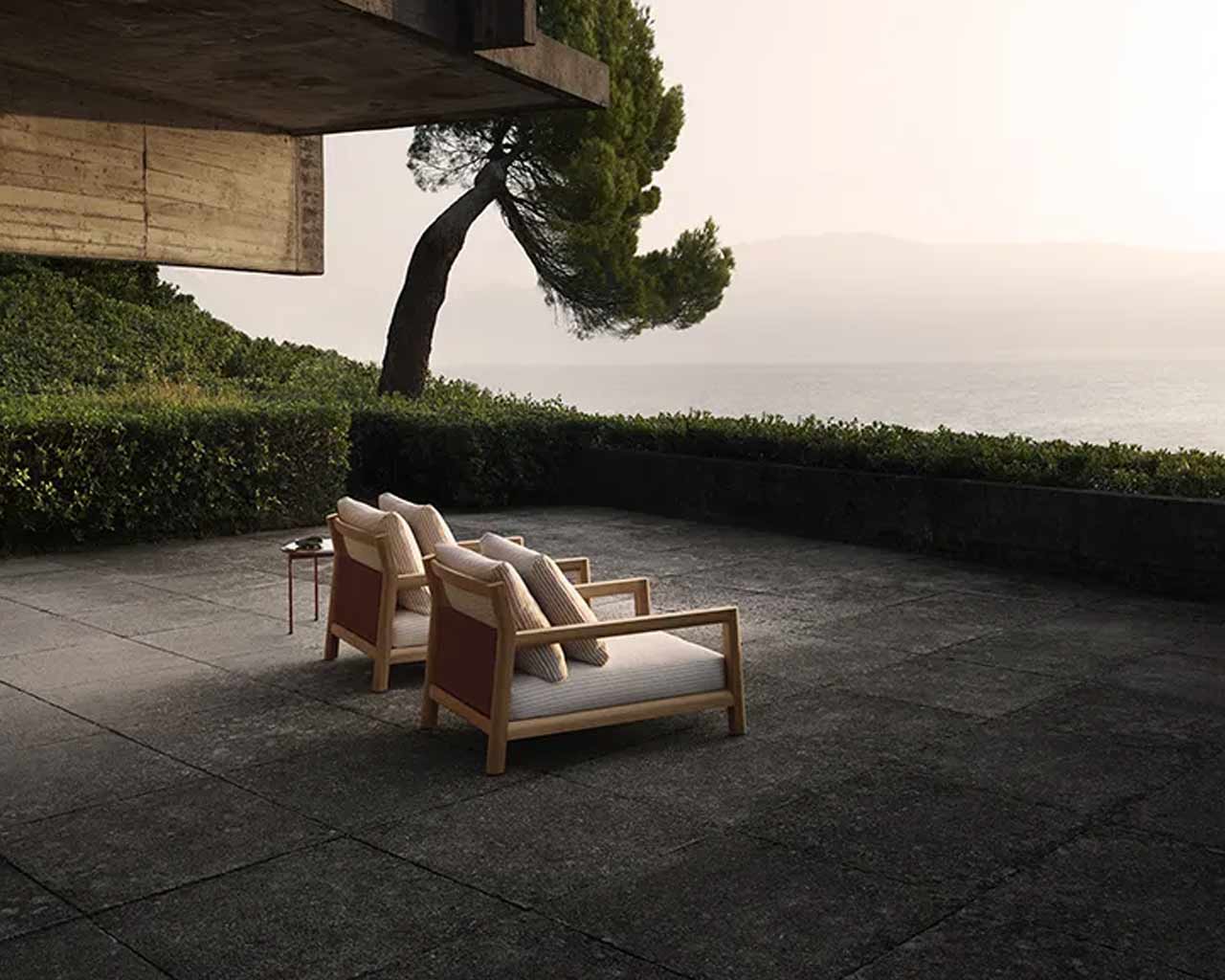 The Borea outdoor collection by B&B Italia designed by Piero Lissoni in 2021 expands with two new loungers: Borea Sunbed and Borea Sunbed lounge.
The first is a sun lounger that gives maximum relaxation: thanks to the adjustable backrest and rear wheels. The curved tubular aluminum structure is available in dove gray and white colors. For greater comfort, Borea Sunbed can be increased by adding a 5 cm padded mattress covered with fabrics from the B&B Italia range. Borea Sunbed is thus perfect if positioned at the edge of a swimming pool of a private residence or contract spaces such as resorts and hotels.
Borea lounge sunbed stands out for its oval shapes: a piece of furniture capable of giving great character. Borea lounge sunbed is proposed in two versions: chaise longue and sofa, both have the backrest adjustable in three positions. With a multifunctional soul, the chaise longue becomes an island with multiple uses: with the lowered backrest it becomes an island, with the raised backrest it accommodates one or two people in a relaxing position. The Borea collection is perfect for decorating the patio or outdoor common areas and pool areas of hotels and resorts.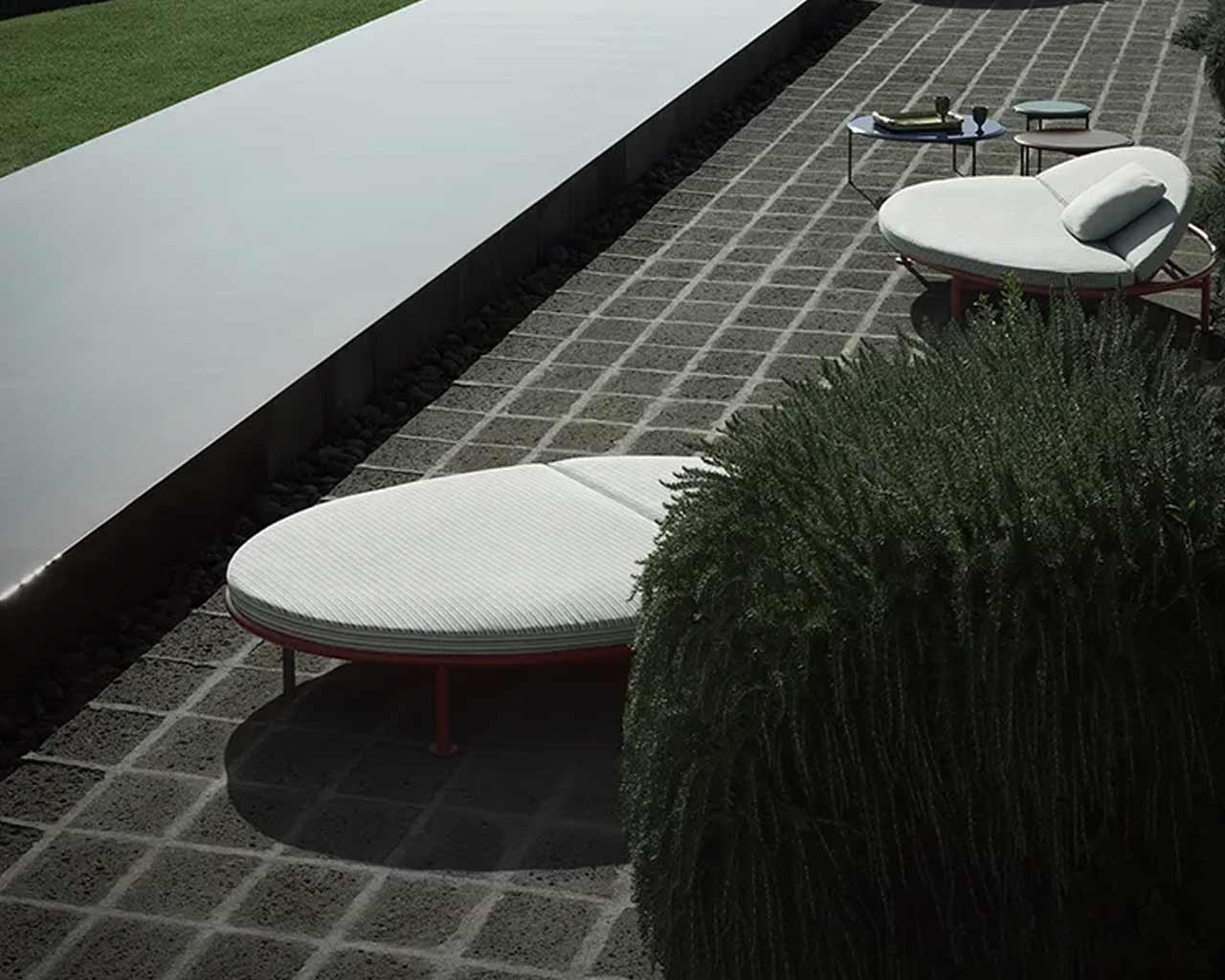 Varaschin introduces Noss Collection
Noss by Varaschin is a series of outdoor seats in colored aluminum that include the stackable stool and the easy chair. Leitmotif by Noss is a fluid line that outlines the structure of the seats and enhances their slender structure. Another peculiarity of the Noss collection by Varaschin is the perforated seat, which in addition to being an aesthetic detail, is also functional for outdoor use in case of rain, allowing the water to flow. An element of great importance, especially for contract applications, is stackability. Noss is in fact a contemporary and sustainable collection, thanks to the possibility of endlessly recycling aluminum.
Giro New collection by Kettal focused on Rope
Giro is the new 2022 outdoor collection by Kettal designed by Vincent Van Duysen. With a decidedly representative name, the line was born from the experimentation of using ropes in an unusual way: that is, sewing them together to create the shape of a new product.
The architect's inspiration comes from a furniture classic: the Ornkey chair. In a dialogue between past and present, Vincent Van Duysen replaced natural rope with recycled polypropylene one and fielded the industrial technologies made available by Kettal.
A reinterpretation of a classic in a sustainable and contemporary way: Giro is a collection that includes armchairs, fixed or modular sofas, folding chairs and seats.